RSPB Sanctuary, Hayle
The reserve is good for walking, with pushchair-friendly paths.
Open all year round.
Entrance is free. Donations are welcome to help the RSPB continue their work.
During spring and autumn, it is an ideal place to see migrant wading birds, gulls and terns. In summer, if you are lucky, you may catch sight of an osprey. In cold winters, as many as 18,000 birds have been seen here, because this most south westerly estuary in the UK never freezes.
Dogs are only allowed on public footpaths and bridleways. Dogs must be kept under control.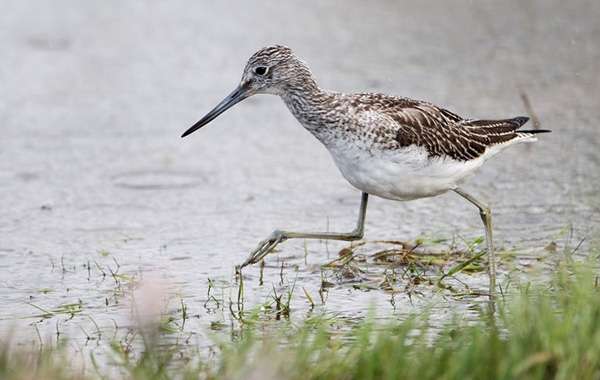 Paradise Park, Hayle
The award winning wildlife sanctuary with Junglebarn indoor play centre offers so many attractions for all of the family, from amazing free flying bird shows, Fun Farm to penguin photo calls and feed the little parrots.
You can meet colourful birds including many rare and beautiful parrots, flamingos, toucans and red billed Cornish choughs. Plus owls, kookaburras and cranes.
With over 140 species and a total of 650 birds, there is a stunning range to see.
Additionally, there are the animals in the Fun Farm including mini donkeys, pygmy goats, sheep, rabbits and guinea pigs.
Then there are red pandas, red squirrels and otters with many species in conservation breeding schemes.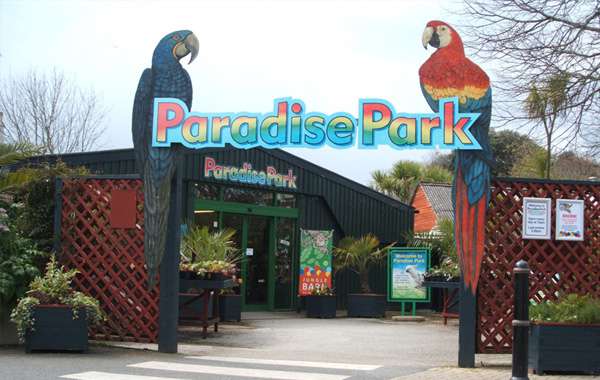 The Eden Project, Cornwall
The world famous Eden Project lies just north of St Austell.
The project is an educational charity which is concerned with the natural world and exploring ways of working toward a better future.
The visitor destination is situated in a huge crater where massive Biomes house the largest rainforest in captivity, stunning plants, exhibitions and stories which serve as a backdrop for the striking contemporary gardens, summer concerts and year-round family entertainment.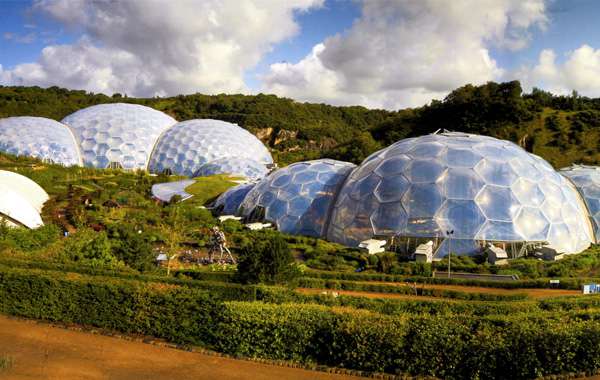 St Michaels Mount, Marizion
From ancient cobbles to castle walls, through time and tide, St Michael's Mount beckons.
Striding the causeway, or crossing by boat. Treading medieval pathways or exploring sub-tropical gardens. Climbing to the castle or uncovering stories of harbour, legend and family home. Admire the views, hear the islanders' tales and unearth a history that lives on in every step.
Through time and tide the Mount creates moments to remember. What will yours be?
Discover a very different day out… plan your visit and find the St Michael's Mount experience to make your own.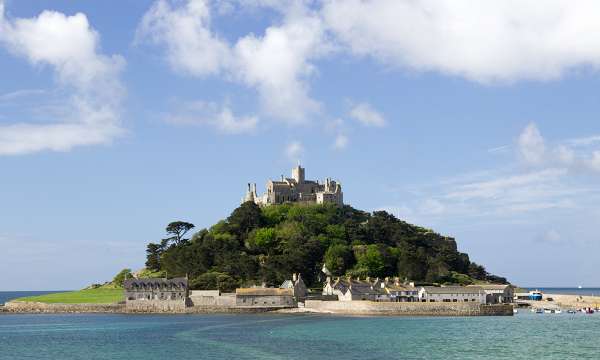 Lands End, Cornwall
Discover a place of stunning scenery and outstanding natural beauty at the westernmost point of Cornwall. Whether you're starved of culture or hungry for new experiences, quench your thirst for adventure at Land's End and follow in the footsteps of early nineteenth century visitors who would travel to the First and Last Inn before making the final stage of the journey to Penn-an-Wlas (Land's End in Cornish) on foot or horseback along the narrow lanes.
Only a short walk from the main visitor centre, where you can collect your walking guide and free heritage trail booklet, there are designated pathways which will lead you to discover some truly breath-taking views and historical landmarks, including magnificent granite cliffs, the famous Longships Lighthouse and the Isles of Scilly (which are visible on clear and sunny days).
As you stroll along family-friendly paths above cliffs carved out by the waves of the mighty Atlantic Ocean, you may find yourself in the company of soaring seabirds and, if you're lucky, seals, dolphins and porpoise may put in an appearance.
Don't forget, the entire natural cliff top at Land's End is open all year round - you pay only for car parking. Just don't forget your camera!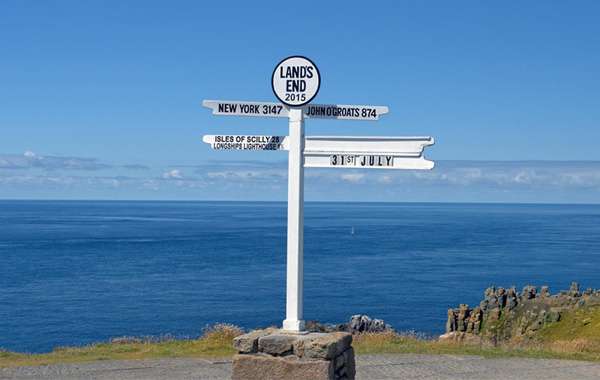 Minack Theatre, Cornwall
The Minack Theatre is one of the world's most famous outdoor theatres. Today, it welcomes more than 80,000 people a year to performances and 150,000 people come just to look round, experience the stunning views and learn more about the story.
The idea for the theatre was born when Rowena Cade, who lived in Minack House at the top of the cliff, decided to create a place for local drama enthusiasts to perform Shakespeare's The Tempest. Over the winter of 1931 and into 1932 Rowena and her gardener, Billy Rawlings, moved endless granite boulders and earth, creating the stage and the lower terraces of the theatre, in the same place as you see them today. The first performance was in August 1932.
Over the past 80 years, the theatre has evolved into today's professionally-equipped venue which brings the very best amateur and professional theatre to the far west of Cornwall. Rowena Cade's unique vision is thriving, and today's audiences continue to experience the magic of live theatre in this amazing place.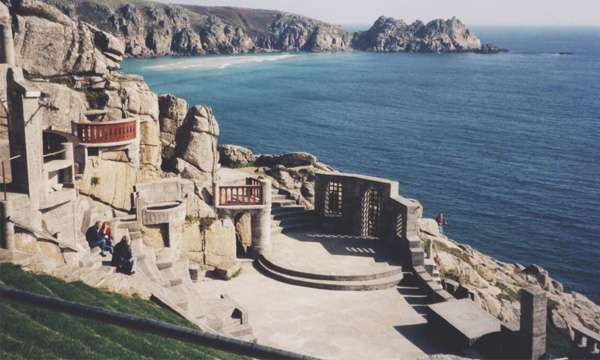 Flambards, Cornwall
Step back in time to the cobbled streets and alleyways of Victorian Britain. Wander through the life-size village and discover over 50 different shops and scenes authentically recreated with thousands of genuine artefacts and 'populated' by life-like people and animals going about their daily business.
Gaze through store windows, step inside the local pub, visit a Victorian home and observe maids hard at work in the 'downstairs' kitchen.
Flambards village is as authentic as it can be - streets are cobbled with granite setts, salvaged from the old streets of Bath in the 1960′s, while the wood-block floor of the school room had already felt the tread and scuffs of thousands of clogs and hob-nailed boots before being salvaged from the demolition of a Victorian school in the North of the United Kingdom and transported to Flambards.
The detail, research and settings are outstanding, deserving the nationally acclaimed awards and accolades gained over the years. Finding the words to adequately convey the atmosphere and total charm of Flambards Victorian Village is a challenge. It is unique and has to be experienced to be believed!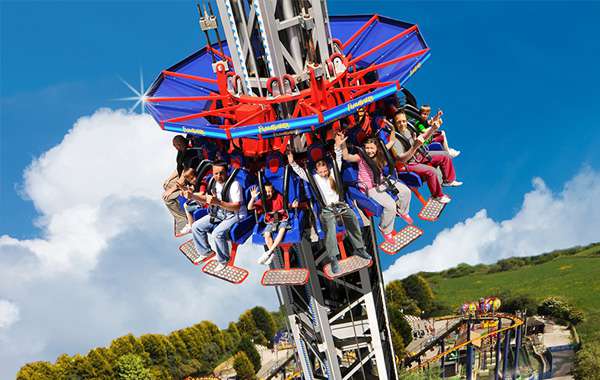 Port Isaac (Portwenn in TV's Doc Martin)
Port Isaac is a traditional fishing village with a vibrant local community in north Cornwall.
Port Isaac is home to the TV series Doc Martin starring Martin Clunes, in which it is known as Portwenn. It's a truly picturesque village with narrow winding streets lined with whitewashed cottages that head down to the harbour where you can watch local fishermen landing their daily catch of fish, crab and lobsters.
Port Isaac is set amidst rugged and magnificent scenery on Cornwall's North coast with two beautiful ports nearby; Port Quin and Port Gaverne.
Reasons to visit Port Isaac
Picturesque traditional fishing village
Set amidst rugged and magnificent scenery on Cornwall's North coast
Stunning coastal walks
Local galleries and arts and craft shops
Steeped in history with beautiful 18th century fisherman cottages
Associated with the TV series Doc Martin, Poldark and Saving Grace
Things to do
Take a cliff top path walk from Port Isaac to Port Gaverne - less than 2 miles
Get your photo taken outside the TV series home of Doc Martin, a short way up Roscarrock Hill on the left
Check out the local galleries and arts and craft shops
Take a boat trip or fishing expedition from the harbour during the summer season
Visit popular neighboring beaches Polzeath and Daymer Bay
Cycle the famous Camel Trail from Padstow to Wadebridge
Wonder through the narrow alleys, cobbled streets and spot the 18th century fisherman homes, most of which are now officially listed as architectural or historic importance.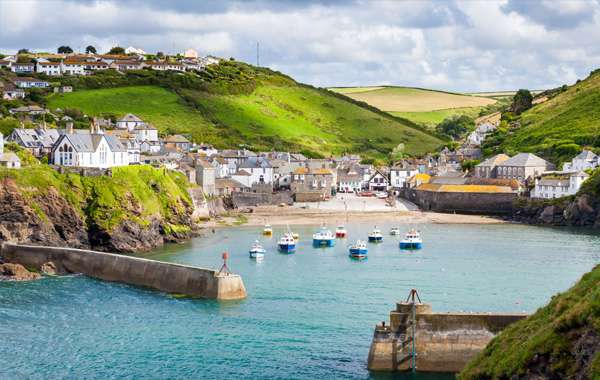 Padstow, Cornwall
Padstow is a charming working fishing port surrounded by glorious sandy beaches, at the head of the Camel River. Watching the everyday ebb and flow of harbour life is a perfect way to spend a day. This foodie destination with popular eateries such as Rick Stein's Seafood Restaurant, is the start and end point for the Camel Cycle Trail.
Reasons to visit Padstow:
Natural beauty made up of rugged coastline, quiet coves and fabulous walks
Seven golden beaches accessible in less than a 5 minute drive
Top foodie destination majoring in fresh, locally produced food and celebrity chefs
Start and end point for the gorgeous Camel Cycle Trail
Perfect base for exploring the beautiful South West Coast path
Ideal location for water sports
Things to do in Padstow:
Enjoy a fun filled day on the beach with an abundance of activities to try, from rock pooling at low tide, body boarding, learning to surf with a local surf school and of course having a go at building a sand castle
Get access to the beautiful Cornish countryside with a cycle on the famous Camel Trail beginning in Padstow and ending in Wadebridge
Known as one of Cornwall's great foodie destinations, you can indulge in some of Rick Stein's fish and chips, sit down in his famous fish restaurant or visit Paul Ainesworth at No.6 for some truly delicious food
Padstow Museum houses an interesting collection of memorabilia giving an insight into the history of Padstow over the past two centuries. You can also discover the story of the famous 'Obby 'Oss, the ancient ritual played out in the town every May Day
Take the ferry across the river to the village of Rock, popular with film stars, models and even royalty. From here there are some great walks along the coast to the spectacular beaches of Daymer Bay and Polzeath
Leave Padstow behind in your wake on a white-knuckle ride on a fast speedboat. Pass rugged coastal scenery as you take an exhilarating 15 minute trip out to sea
The local coastal waters offer fantastic fishing on the rocky headlands not to mention the stunning views.
For the more adventurous take a trip on a local fisherman's boat which operate daily throughout the summer